3 Spring 2021 Fashion Trends: What to Look for in a New Bag
Posted by MCKENNA PETERSON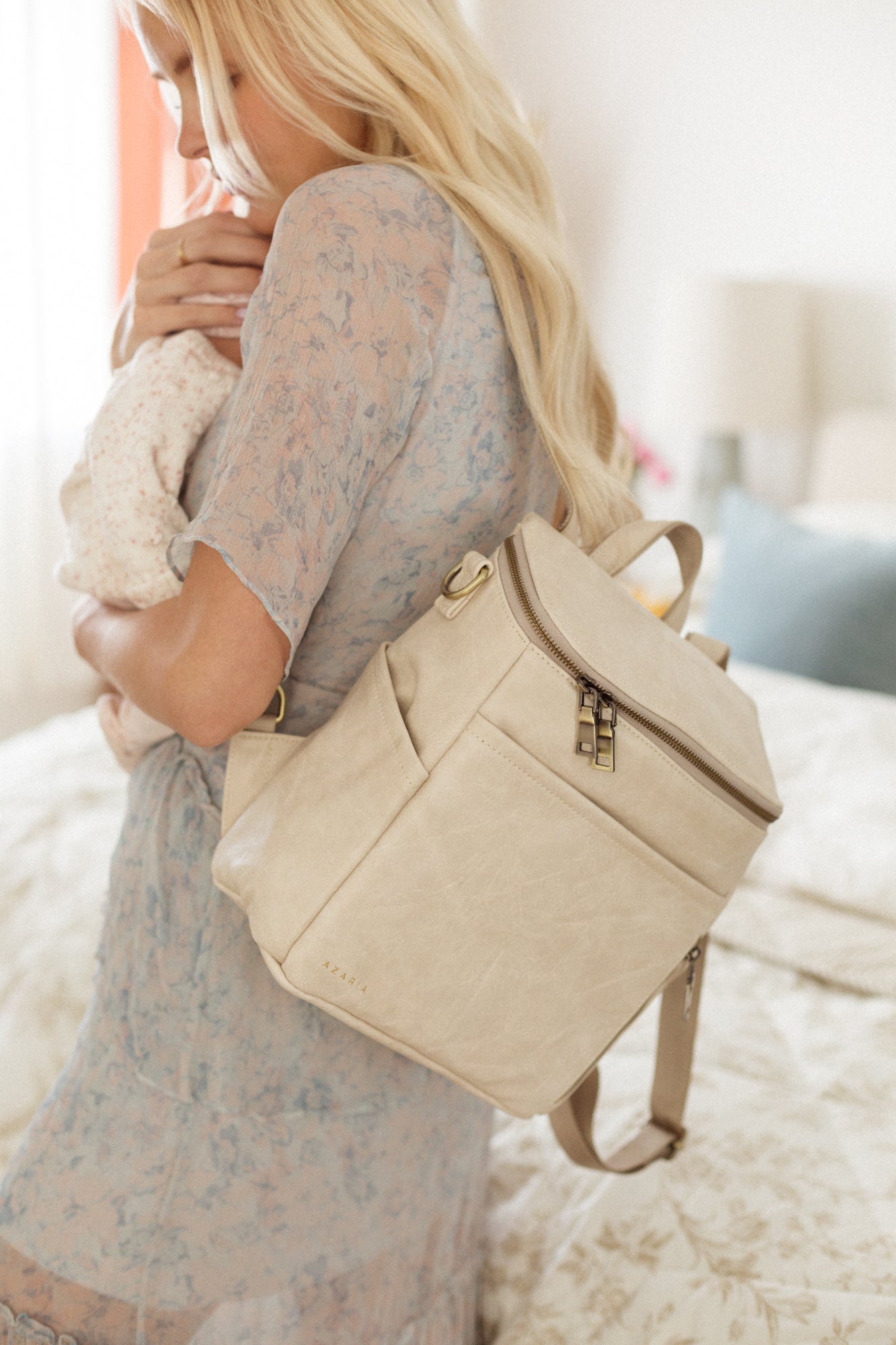 The weather is wrestling between the late winter blahs and the early hints of warmer days.
It makes us want to put away the puffy coats and clunky boots and slip on pretty sweaters and shapely flats in lush, blossom colors. With an eye on the weather report, of course.
And of course, we want all the bags, carryalls, clutches, and satchels that just seem to sing of the arrival of spring.
Here's what to look for in a new bag as we leave winter behind.
Practical
Something we've noticed in the fashion world is a definite leaning towards practicality this season. 
According to Marie Claire, This new "practical edge...doesn't mean a major shift in trends, but rather revisiting some tried-and-true trends and giving these styles a more practical purpose."
Here at Azaria, we're seeing bags that have a variety of uses and look elegant whether the event is casual or a stylish affair. We heartily approve. Fashion should always give our look a timeless boost, but also contribute to the ease of everyday life. 
Azaria bags are fashion-functional and will fill your needs, no matter the occasion. Also, many of our bags have easy-to-care-for wipeable linings, and our clutches fit neatly into our larger bags--meaning you can take our sleek larger bags when you need them, You can also easily remove the clutch with the essentials for a night on the town. 
Colors
Following the color trends, we're excited to announce our new spring colors in Dusty Blue, Bone, and Taupe.
What you're looking for in a new bag is soft neutrals that go with a variety of outfits and not ones that gather dust waiting for you to find an outfit pairing that actually works.
These summery neutrals remind us of the most lazy days at the beach, walking slowly on hot white sand, surrounded by the vast and endless ocean. We feel the sea spray on our faces, cooling us from the hot stress of life. We feel the energy of the sun entering into our skin and feeding our souls. These hues help us seek after mindfulness, a new state of being in which we are completely present, seeking calm and letting fears and worries go.
Bags Within Bags
We've mentioned our adorable clutches, and how well they stack inside our larger bags. We're so pleased to announce we also have new mini-clutches and adorable, delicate wristlets for warmer weather. 
According to purseblog, "One of the major trends seen on the spring runways also happens to be quite practical for the times that we are living in. From Fendi and Chanel to Miu Miu and Versace, smartphone carriers are a huge trend for spring" and "mini bags continue to trend, appearing in a select number of collections this season," though some designers are moving away towards larger bags.
Which is what makes nesting our bags the ultimate in chic organizational style. Small, easy to grab bags that also fit wonderfully in our classic La Mère or Le Marché tote.
Available Now
Our spring 2021 collection is now available, so don't wait to treat yourself!
Bone: A cool-toned ivory. This is the shade of the pristine white beaches of your fantasies.
Taupe: A solid, lighter-toned neutral. The color of sand as it touches the ocean waves. Our customers have been begging for Taupe for years, and we finally found the perfect shade.
Dusty Blue: The soft color of the ocean and sky. This shade of blue is so subtle, it makes a perfect neutral because it is so mild and soft. It pairs fabulously with denim, and everything else you will wear this Spring and Summer.
More exciting details:
-Doux Clutches will have our new Magnolia lining
-Cosette Slide wallets are restocking in Black and Caramel, and in 2 new shades; Dusty Rose and Bone. They will also have our new Magnolia lining
-Limited edition Petites have clasps at the bottom of the backpack straps
-Chloe Key Wristlets are restocking in Black and Caramel, and 2 new shades; Dusty Rose and Bone
-Changing mats restocking in Black, Chestnut, Caramel and Dusty Rose, with our new Magnolia lining. 
-Magnolia-print Changing Mat launching on a Bone colored vegan leather 
-New stroller hooks!! launching in our 4 staple colors; Black, Chestnut, Caramel, Dusty Rose
-New Mini Clutch designs in 6 different patterns!
Lavender Floral, Magnolia, Strawberry Fields, Micro Daisy, Here Comes the Sun, Taupe Gingham
-Dusty Rose clutches and Caramel Petites restocking
All SS21 
colors
 come in our iconic Vintage vegan leather in Original, Petite and Doux Clutch sizes
Make sure you don't miss out: sign up for our newsletter today, and we'll keep you in the loop! Collection 2019 Sale 70% Off Title for image