Travel Tips That Make Packing Easier
Posted by MCKENNA PETERSON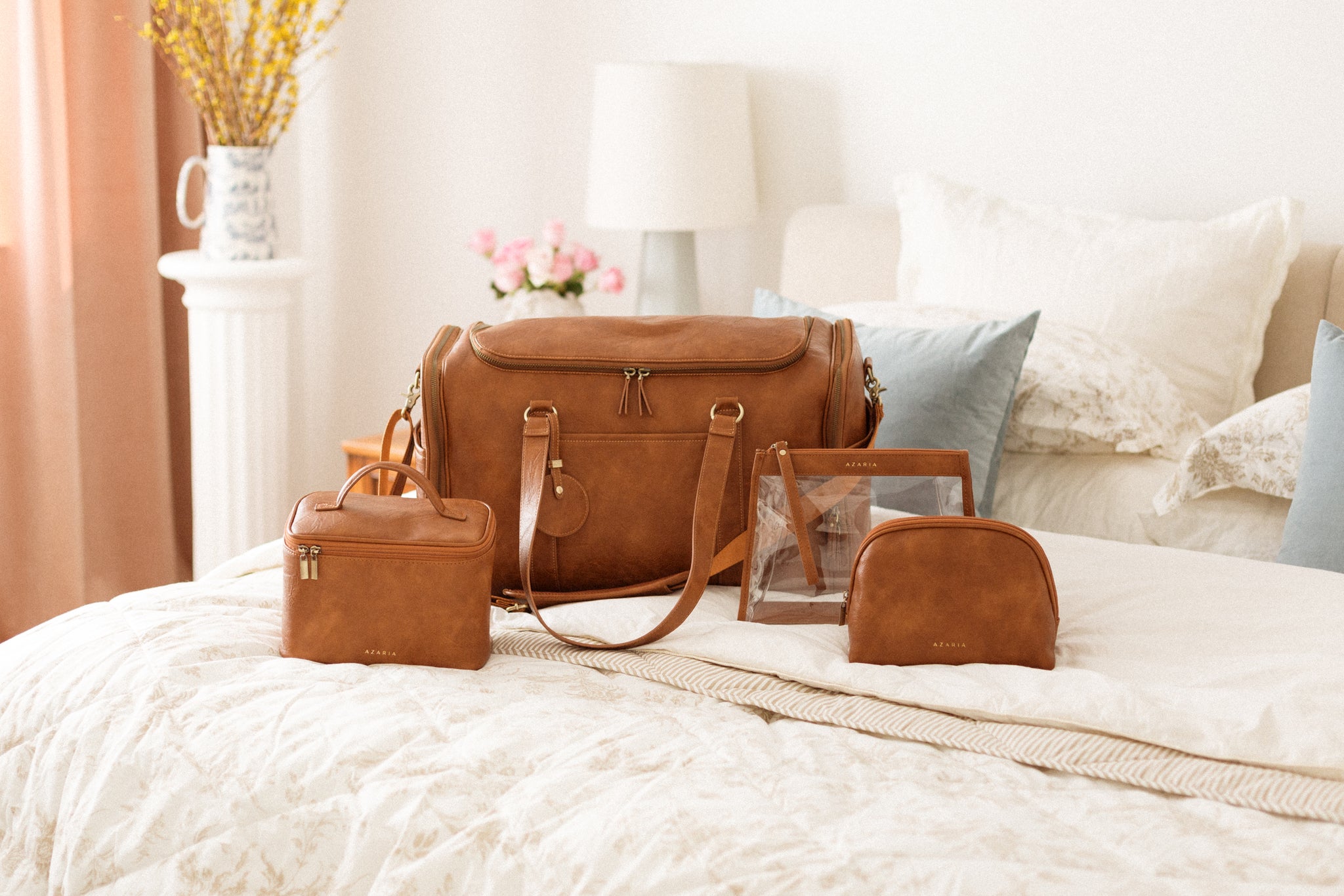 Now is the time for making plans for the future. As the days grow steadily longer and warmer, we long to hit the road and enjoy the sunshine and the newness of spring. Hopefully, soon we'll be able to do just that.
For this spring season, we're so pleased to present our new Madeleine Travel Collection. This collection is designed with vintage-styled maple vegan leather with antiqued gold hardware. You'll find this line to be made of the highest quality and the most luxuriously soft materials available. They also come with wipeable cloth linings for easy cleaning. 
In the spirit of our new collection, here are five tips to make packing easier for the travel of your dreams.
Travel Tips
1. Make a list. Consider the climate of your destination, length of stay, and possible events you'd like to attend. Don't forget the basics like toothbrushes, medication, and underwear.
2. Don't pack your essentials in a checked bag. If you should reach your destination before your luggage—say your outfits and sundries take a detour to Tacoma, courtesy of the airlines—have at least one change of clothes, your money, your passport, laptop, and anything else you'll need for the first few days of your trip with you.

3. Even better, plan your trip so you'll only need a carry-on and not have to wait at the airport carousel for your belongings.

4. Choose outfits that mix and match well together. Also, pack your high-quality basics that dress up for dinner or down for casual wear. If you have access to a washer and dryer, keep that in mind while you pack and go minimalist. Bring along your standard favorites that make you look and feel your best in stylish comfort.

5. Rolling your clothes actually takes up less room than folding does. You'll have more room if you use your space well. You'll find you also have less wrinkles this way. Keep your cosmetics, shampoo, shaving cream, and other items sealed and separated from your clothes. Keep stain-removing wipes tucked inside one of these inner bags in case of any mishaps with your wardrobe while you're on the road.
We hope you enjoy our new travel line as much as we enjoyed envisioning, designing, and creating our ideal travel gear. We're thrilled to share this collection with you.
The Madeleine Travel Collection
Inner Cases
The Madeleine Collection has three styles of bags that can fit perfectly into the Madeleine Weekender.
Large flap-top style

Easy carry style with comfortable top handle

Structured design

Internal front mesh zipper to store small, loose items

2 side elastic pockets for lipsticks 

Divider for palettes and/or brushes

Smooth nylon zipper, easy to open
Replace that ziplock bag you've been using with a more sustainable option!

Thick and high quality clear plastic to be able to see the contents of your bag

Easy to wipe down if something spills

Clutch strap for easy carrying

Smooth nylon zipper, easy to open

Designed to perfectly fit into the weekender
Medium-sized minimalist cosmetic case

2 small inside pockets; one slip mesh and one zipper mesh pocket

Smooth nylon zipper, easy to open
10 total pockets, including internal large zip mesh pocket for underthings

Folds easily for storage

 

Lightweight

Large rectangle opening for ease of getting into and seeing your belongings

Leather-lined crossbody messenger strap with large and comfortable shoulder pad. Easily adjustable with triglide

For organization: 1 large center compartment and 2 side compartments

Protective metal feet

Edges made with durable microfiber leather to prevent scratches and chips

Large enough to hold everything you need for a trip, but not bulky big. The perfect size.

 

Spacious interior- 48 L capacity

Meets carry on size restrictions of most major airlines

 

Structured design, stands up on its own

Darling leather luggage tag included

Long handle drop—comfortable and easy to carry on the shoulder as an alternative to the crossbody messenger strap. Handles are also long enough to be worn backpack style

Convenient and comfortable leather button handle pad

 

A fabulous padded laptop section accessible from outside-- so it's very easy in the security line to pull out your laptop without having to get into the main compartment 

 

Front magnet slip pocket

2 outside side pockets- bumped out to be able to hold large water bottles

Luggage sleeve, to fit over roller suitcase handle
Our new travel collection now launched! Shop now. Collection 2019 Sale 70% Off Title for image